Inverter
The TECNED OM(SF/D) inverter series is available with input voltages from 24Vdc to 220Vdc nominal and single phase output. The OM(SF/D) inverters are available in capacities from 5 kVA up to 100 kVA depending on DC voltage levels.
OM (SF/D) inverter can be supplied as standard or fault tolerant systems within a single enclosure to meet customer requirements for safety and reliability.
The OM-SF (software free) model is a strictly analog inverter available with natural convection and forced air cooling depending on rating. Standard features include DC-high/low, output out of limits and general alarm, output V/A metering, potential free contacts and input/output fuse monitoring.
The OM-D model includes an additional digital controller with LCD display that shows the systems current state of operation and system values, allows setting of system parameters and includes event and alarm logs.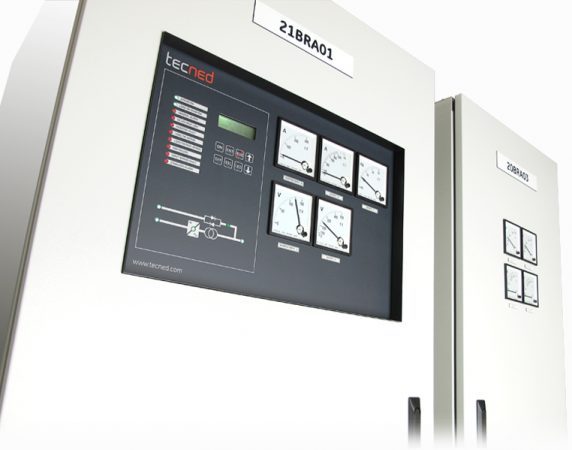 Specifications
Input
Nominal voltage
24 / 48 / 110 (125) / 220 Vdc
Voltage range
-15% / +45%
Output
Voltage
220 / 230 / 240 Vac / 1Ph + N
Static stability
+/- 1%
Dynamic stability
+/- 3% (0-100-0% load step)
Recovery time
< 10 msec
Voltage THD
Max 1.5% for 100% linear load
Frequency
50Hz / 60Hz (selectable)
Frequency stability
+/- 0.1% (free running)
Power factor
0.9 PF Lag
General
Ambient temperature
-20 to +70 °C storage / -10 to +40 °C operation
Altitude above sea level
1000 m
Enclosure
Aluzinc frame / powder coat RAL 7035
Standards
Safety IEC/EN 62040-1 / EMC 55011
Conformity
IEC 60146 / CE-Label