Industrial UPS
The TECNED ONV(SF/D) UPS series is available with single phase and three phase input and single phase output with ratings up to 100 kVA in a single enclosure. The ONV (SF/D) series can be configured to charge common battery types from VRLA to NICAD.
The ONV (SF/D) series can be supplied as standard or fault tolerant systems within a single enclosure to meet customer requirements for safety and reliability.
The ONV-SF (software free) model is a strictly analog UPS available with natural convection and forced air cooling depending on rating. Standard features include output V/A metering, mains failure / DC-high/low and general alarm with potential free contacts and input/output and battery fuse monitoring.
The ONV-D model includes an additional digital controller with LCD display that shows the systems current state of operation and system values, allows setting of system parameters and includes event and alarm logs.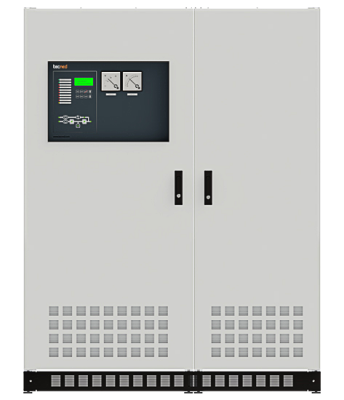 Option list (GR-SF/D)
Extend to 12x PFC (NO/NC) with LED.
Fan failure alarm.
Manual / automatic boost charge.
Individual fuse failure indicator.
DC ground fault.
Over temperature.
Up to 6 (DIN 96) meters / cabinet
Manual bypass switch
Additional options GR-D
Advanced Battery Monitoring.
Battery asymmetric supervision.
Programmable values for charge voltage/current, boost-charge.
Single or double leg static bypass.
RS485 / Modbus communication.
Specifications
Input
Voltage single phase
1x 220/230/240 V + N
Voltage three phase
3x 380/400/415 V
Voltage tolerance
+ 15% / – 20% (-20% start battery operation)
Frequency
50Hz / 60Hz +/- 10%
Harmonic distortion
< 5% THDI
Power Factor
0.99
Battery
Voltage (nominal)
24 / 48 / 110 (125) / 220 Vdc
Characteristic
I-U according to DIN 41773
Output
Voltage
220 / 230 / 240 Vac / 1Ph + N
Static stability
+/- 1%
Voltage THD
Max 1.5% for 100% linear load
Frequency
50Hz / 60Hz (selectable) +/- 0.1% (free running)
Power factor
0.9 PF Lag
General
Ambient temperature
-20 to +70 °C storage / -10 to +40 °C operation
Altitude above sea level
1000 m
Enclosure
Aluzinc frame / powder coat RAL 7035
Standards
Safety IEC/EN 62040-1 / EMC 55011
Conformity
IEC 60146 / CE-Label