High Reliability
Wide input voltage range of -60% to +25%, showcasing remarkable adaptability to various grid conditions.
Strong Overload Capacity: Handles overloads effectively for stable performance.
Seamless Maintenance: Hot-swappable design ensures uninterrupted operation during maintenance.
Dual Redundant Control: Dual cards and DSP controls prevent single failure point.
Efficient Fan Control: Intelligent fan management and redundancy save energy, sustaining 25% load with 2 fans failed and 50% with 1 fan failed.
Comprehensive Protection: Integrated input, output, bypass breaker, and manual bypass enhance system safety.
Emergency Power-Off (EPO): Standard EPO function swiftly disconnects power during emergencies.
Durable PCBs: Anti-corrosion coating on all PCBs boosts longevity.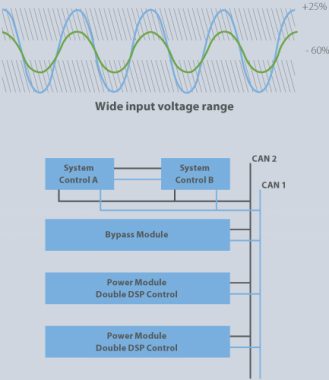 Green power
Achieves up to 97% AC/AC efficiency, even at 30% load, minimizing heat and saving power costs.
ECO mode offers up to 99% efficiency, reducing expenses. W-ECO mode reaches 98.5% efficiency, lowering TCO with fast transfers.
High input power factor (up to 0.99) and low Input THDi (< 3.0% at full load) cut grid pollution and costs.
Advanced and compact 3U height 100KW power module equipped with maximum 30A charger.
Enable self-loading test functionality for convenient debugging and on-site testing prior to real load connection. This eliminates the need for expensive temporary loads, cabling, and breakers, resulting in energy and cost savings.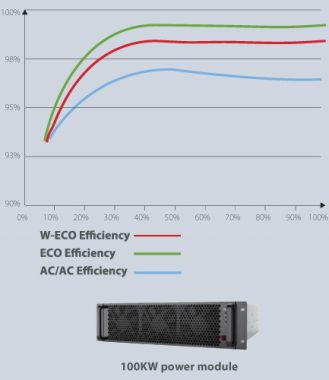 Advanced technology
Three level technology ensures low harmonics, remarkable efficiency, and substantial energy conservation.
The Power Walk-in feature mitigates inrush current to the main power source or generator.
Advanced parallel expansion technology supports 8 units up to 9.6MW in parallel, single /parallel system compatible.
Self-dedusting function which saves the service time.
The Parallel ECO mode maximizes overall system efficiency during parallel operation.
Common battery bank on parallel mode.
Frequency converter function (60Hz to 50Hz or 50Hz to 60Hz)
 
User-friendly Interface
User-friendly ON/OFF – Double physical button design to avoid false operation.
Equipped with a 7-inch touch screen with LED Indicators, ensuring comprehensive and visualized information display.
Large data storage capacity,10000 entry events logs.
User-Friendly Interface – A friendly human-machine interface presenting data and graphical representations.
Hassle-free software updates on-site, enabling a singular update for all power and control modules.
ON/OFF – Double Button design to prevent maloperations and touch screen failure.
Smart programmable dry contact communication function.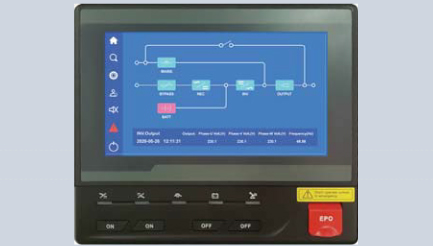 Intelligent Management
Fault Trace Management (FTM) for convenient failure analysis (waveform record before & after of the fault point for 200ms) which easily figure out faulty point.
Battery Life Extension: Use a three-stage charging system to prolong battery lifespan.
Intelligent Battery Management: Replace faulty batteries (30-50 per string) instead of the entire set.
Early Warning System: Get alerted about potential faults with pre-alarm on key parts.
Efficient Asset Tracking: Keep track of part replacements, timelines, and service details for effective management.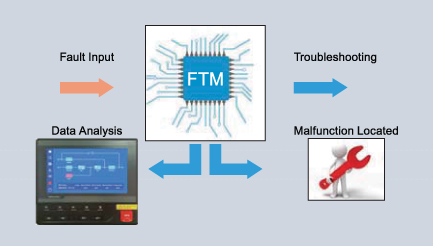 Options
Battery Monitoring Solutions:
Advanced battery monitoring per block
voltage, Impedance, and temperature.
Flexible Network Management:
Optional internal SNMP adapter
Customer interface software
Intelligent management software
Smart status diagnosis
Abnormal status real time alarm
Event logs recording
Parameters real time monitoring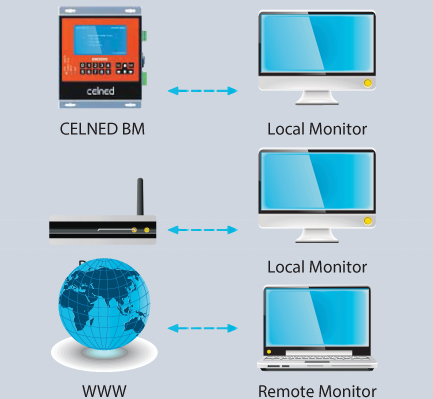 More Options
Bypass voltage regulator
Extended dry contact card
BMS card for lithium battery
Input and output isolation transformer
Output Synchronization Common Bus
Battery Charge Temperature Compensation
ONV-XP 100-300
MODEL
ONV-XP 100
ONV-XP 150
ONV-XP 200
ONV-XP 250
ONV-XP 300
Power module Model
XPD-50
XPD-100
Voltage Range (Vac)
3Φ4W+PE, 380/400/415, L-L: 138~485
Input Wiring
3Ph+N+PE
Input Frequency (Hz)
40-70
Bypass Voltage Range (Vac)
-20% (10/15/30/40/50/60%) ~ +15% (10/20/25%)
Power Factor
≥0.99
THDi at full Linear load
<3%
Output
Power Module (kW)
50kW
100kW
Power Module Number
2+1
3+1
4+1
5+1
3+1
System Capacity (kVA)
100
150
200
250
300
Power Factor
1
Voltage (Vac)
3Φ4W+PE, L-L: 380,400,415 ±1%
Frequency (Hz)
50/60 ±0.2% (battery mode)
Three Phase Difference
True sine wave,≤2 degrees
THDv
≤1% (linear load, full load); ≤4% (no linear load, full load)
Static Bypass Transfer Time
0
System Efficiency (MAX)
97%
Overload Capacity
101-105% Long run, 106-110% load for 60 minutes, 111%-125% load for 10 minutes, 126%-150% load for 1 minute, over 150% load transfer to bypass
Battery
Battery Voltage (Vdc)*
±240 (±180~±300 settable)
Charging Current (A)
N×30 Maximum (N = the number of power module)
Others
Display
7-inch Touch screen+ LED+ Physical buttons
Operating Temperature (ºC)
0~40
Storage Temperature (ºC)
-40~70
Relative Humidity
0~95%, no condensation
Communication Function
RS232, RS485, Dry contact, MODBUS, SNMP (optional)
Noise (dB)
70
Altitude (m)
0~2000, no derating
Cabling
Bottom/Top
Bottom/Top
Bottom/Top
Bottom/Top
Bottom/Top
Power Module Dimension (mm) W×D×H
500×750×130(3U)
Cabinet Dimension (mm) W×D×H
W:600 D:860 H:2000
W:600 D:860 H:2000
W:600 D:860 H:2000
W:600 D:860 H:2000
W:1200 D:1000 H:2000
Weight (kg)
Cabinet
228
228
240
240
291
Power Module
33
33
33
33
55
ONV-XP 400-1000
MODEL
ONV-XP 400
ONV-XP 500
ONV-XP 600
ONV-XP 800
ONV-XP 1000
Power module Model
XPD-100
Voltage Range (Vac)
3Φ4W+PE, 380/400/415, L-L: 138~485
Input Wiring
3Ph+N+PE
Input Frequency (Hz)
40-70
Bypass Voltage Range (Vac)
-20% (10/15/30/40/50/60%) ~ +15% (10/20/25%)
Power Factor
≥0.99
THDi at full Linear load
<3%
Output
Power Module (kW)
100
Power Module Number
4+1
5+1
6+1
8+1
10+2
System Capacity (kVA)
400
500
600
800
1000
Power Factor
1
Voltage (Vac)
3Φ4W+PE, L-L: 380,400,415 ±1%
Frequency (Hz)
50/60± 0.2% (battery mode)
Three Phase Difference
True sine wave,≤2 degrees
THDv
≤1% (linear load, full load); ≤4% (no linear load, full load)
Static Bypass Transfer Time
0
System Efficiency (MAX)
97%
Overload Capacity
101-105% Long run, 106-110% load for 60 minutes, 111%-125% load for 10 minutes, 126%-150% load for 1 minute, over 150% load transfer to bypass
Battery
Battery Voltage (Vdc)*
±240 (±180~±300 settable)
Charging Current (A)
N×30 Maximum (N = the number of power module)
Others
Display
7-inch Touch screen+ LED+ Physical buttons
Operating Temperature (ºC)
0~40
Storage Temperature (ºC)
-40~70
Relative Humidity
0~95%, no condensation
Communication Function
RS232, RS485, Dry contact, MODBUS, SNMP (optional)
Noise (dB)
70
Altitude (m)
0~2000, no derating
Cabling
Bottom/Top
Bottom/Top
Bottom/Top
Bottom/Top
Bottom/Top
Power Module Dimension (mm) W×D×H
500×750×130(3U)
Cabinet Dimension (mm) W×D×H
W:800 D:1000 H:2000
W:800 D:1000 H:2000
W:1400 D:1000 H:2000
W:1800 D:1000 H:2000
W:1800 D:1000 H:2000
Weight (kg)
Cabinet
325
325
580
650
745
Power Module
55
55
55
55
55