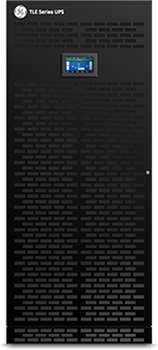 TLE Series™ UPS
3 phase 400 Vac 40-800 kVA/kW
The TLE Series UPS is one of the best performing three-phase UPS systems providing critical power protection for a wide range of applications.
The TLE Series operates in VFI mode (Voltage Frequency Independent) and has been developed to satisfy the growing request of high efficiency through an innovative control algorithm with 3-level inverter technology. This innovative product provides double conversion operating mode.
The TLE Series is developed using GE's Design for Six Sigma methodology to help ensure that the product fully meets customer requirements and expectations.
The TLE Series UPS provides industry-leading reliability, efficiency, clean input performance and unity power factor at output. Reliability can be further increased by paralleling more units utilizing GE's unique RPA™ (Redundant Parallel Architecture) technology. Through their complete life cycle, all GE UPS systems are fully supported by service teams which provide world-class, 24×7 preventive and corrective services, training and application expertise.
Ensuring uptime for critical processesFor mission critical processes,
customers rely on our industry-leading power quality solutions to increase critical system reliability. GE's Critical Power business has technology that delivers superior performance and industry-leading energy efficiency for facility backup power management. In addition to our UPS Solutions, we provide the Standby Generator Paralleling Switchgear, Automatic Transfer Switches and Surge Suppression Devices that deliver power efficiently and reliably.
Ease of Installation & Improved Serviceability
TLE Series
1 phase in/Front Access
TLE Series is designed to have front access for all the critical components that reduces mean time to repair (MTTR).
Scalability & Slide Out Construction
The TLE Series UPS scales vertically to up to 120kW, and all sub-assemblies are designed to easily slide out for fast maintenance and service. Now you can replace fans, caps, etc. as needed without having to replace the entire power block.
 Improved Diagnostic
TLE Series new diagnostic features allows to store different wave forms and also provides fan failure detection as well as warning on capacitor life that improves UPS availability and enhances preventive maintenance capabilities.
Standard Safety and Maintenance Feature
To provide enhanced safety and protection the TLE Series UPS has standard built in back-feed protection, and a maintenance bypass to reduce the need for an external bypass system.
Advanced User Interface
The TLE Series UPS is equipped with menu-driven touch screen display panel provides easy to read details on UPS status and metering, parameter settings, UPS configuration. This user-friendly display panel provides:
Critical measurement of input, output and battery included with mimic diagram
Quick operational status
Measurement and operational status of RPA system
Different access level for user and service
Multilanguage communication interface
Software & Connectivity Solutions
Protection Software
GE Data Protection software can communicate with the UPS over RS-232, USB or SNMP to receive status information and measurement values of the UPS. In case of a critical condition (time on battery, remaining battery autonomy time or low battery) for the load, the software starts a controlled shutdown. An enhanced alarm management system provides the possibility to start applications, send messages, and send e-mails for every upcoming or disappearing alarm.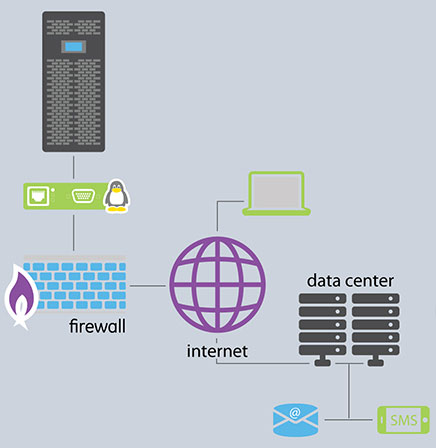 Remote Monitoring and Diagnostic Solution (iUPSGuard)
GE remote monitoring solution is an anytime, anywhere concept in UPS status monitoring and alarm notification supporting all GE UPS product lines. Accessing the latest site information via Web and being alerted by Email or SMS , it enables the user to make timely decisions in case of changing critical conditions. With comprehensive data collection and analysis it improves diagnostics capability and enhances response time.  24/7 remote access to your UPS data using standard web browser
Automatic alerting in case of event direct and immediately to you cell phone or by email
Regularly operational reports with proactive information on critical data
Preventative information using PMAD (Preventative Maintenance & Advanced Diagnostics) feature
Possibility to reduce intervention and onsite work
Remote Connectivity to Building Management Systems
This optional Standard Network Management Protocol (SNMP) Plug–In Card allows the UPS to communicate over a LAN or interface through all major building management systems (BMS).
Integrates a modern web server for UPS monitoring Via LAN, drives remote server shutdown in case of critical UPS alarms and works as Modbus TCP Converter "as well as Modbus RTU 485".